A Touch of Ruin by Scarlett St. Clair
A Touch of Ruin
by Scarlett St. Clair
Self-Published
Book 2 in the Hades & Persephone Series
Persephone's relationship with Hades has gone public and the resulting media storm disrupts her normal life and threatens to expose her as the Goddess of Spring.
Hades, God of the Dead, is burdened by a hellish past that everyone's eager to expose in an effort to warn Persephone away.
Things only get worse when a horrible tragedy leaves Persephone's heart in ruin and Hades refusing to help. Desperate, she takes matters into her own hands, striking bargains with severe consequences.
Faced with a side of Hades she never knew and crushing loss, Persephone wonders if she can truly become Hades' queen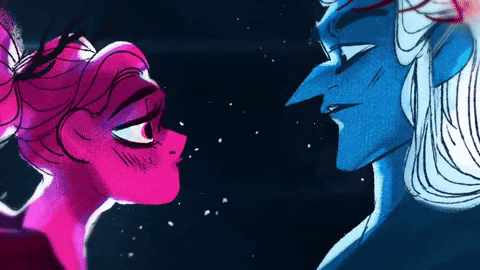 Age Recommendation:
18+
Genre:
Romance
Erotica
Mythological
A Touch of Ruin by Scarlett St. Clair is the second book in her Hades & Persephone series, and is from the POV of Persephone. Hades and Persephone's relationship has been made public, and the media is relentless in their pursuit for anything they can get on them. Persephone can't walk down the street without someone calling her name, or taking pictures. Hades dark past is being dug up, in hopes of Persephone leaving him. And if this wasn't enough stress on their bond - a tragic event happens to someone Persephone loves, and with Hades refusing to help, Persephone goes to another God to make a bargain - with terrible consequences. With all of these barriers in the way from their happily ever after, can Persephone ever be Hades wife and queen?
Why am I doing this to myself? Honestly? Let me say this again, because I said the same thing with A Touch of Darkness - I liked it ... I didn't love it. There are a lot of problems that I have a tough time getting past. My main one - I felt like I read this before. I swear it was like a blend of Fifty Shades and Bared to You plot, but throw in Greek Gods in modern times. I think it would have been better to stick to one storyline - Persephone dealing with the media, and struggling to accept Hades as God of the Dead, and all that comes with it. The weird side plot with --------spoiler-----> the stalker wasn't needed. <------------- Towards the end, it just felt too chaotic, and I was left annoyed, because the main issue here is communication. If Hades told Persephone why he couldn't help, all of this could have been avoided. That being said, this book did make me cry in the last 20%, so there is obviously something about it that I like.
So why am I going to continue with the series? At this point, I've paid for the first two books. I'm invested now. Why not read one more? I know there are others coming out in the future, and in a year or two, I might say fuck it, and DNF it, but at this point, I feel like I should finish the third. But damn it, it's hard. I genuinely like the books, but I still don't get the hype. I would never reread them. I don't get it ... but hell, Scarlett St. Clair just got me to purchase the third book, so something is there ... *cough* the smut *cough*.