Like Cats and Dogs by Kate McMurray
Like Cats and Dogs
by Kate McMurray
Published by Sourcebooks Casablanca
Book 1 in the Whitman Street Cat Cafe Series
Can you fight like cats and dogs, and still be perfect for each other?
Things are getting ruff in this Brooklyn neighborhood when new veterinarian Caleb Fitch moves in next door to the Whitman Street Cat Cafe and gets on the wrong side of cafe owner Lauren Harlow. Lauren has a few things to teach the new vet on the block, and rescuing kittens is only the start...
Lauren can't ignore the fact that she is instantly attracted to Caleb, but he gets her even more riled up when he argues with her about how best to treat the cats in her care. Determined to smooth things over, Caleb comes to the rescue when a new litter of abandoned kittens is left on Lauren's doorstep, and they confront the fiery attraction that's been building between them from the start. But saving the baby kittens is only the first challenge Lauren and Caleb have to face, and when a real estate developer comes sniffing around their block, they'll have to work together, or risk losing everything...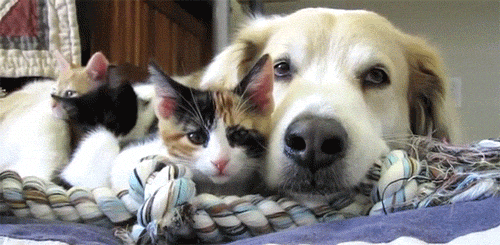 RATED: 18+ CATEGORY: MOOD:
Steamy Romance Weird
I would like to thanks #SourcebooksCasablanca for sending me an #ARC of #LikeCatsAndDogs by #KateMcMurray via #Netgalley in exchange for a fair and honest review.
Like Cats and Dogs by Kate McMurray is the first book in her Whitman Cat Café series, and centers around Lauren, the manager at the Cat Café, and Caleb, the new veterinarian at the neighboring clinic. While finding each other attractive, the two can stand one another. These two opposite personalities fight about everything - but it only makes them want each other more.
So I requested this book for two reasons: the cover is kind of cute and eye catching, and the synopsis seemed interesting in a rom-com sort of way. But it's misleading as hell, because this wasn't a rom-com. You see, I'm an expressive reader. I smile openly while reading, actually laugh out loud, and when something exciting or horrifying happens, my eyes go all owl like, and I usually have to close the book and compose myself. I might have smiled ONCE in this whole. book. It had promise. I loved the idea of a romance set in a cat café. If you have never been to one, go! They are pretty cool! I love the enemies to lovers trope. But the interactions between these characters were almost cringy. There was no chemistry, no heat, just a couple of two-dimensional characters who argued about the silliest stuff. The side stories were equally uninteresting. And while it's a romance that has sex on page - my favorite - the sex scenes either bored me, or made me snort.
I wish I could have loved this book. I loved the idea of it, but it's just not a winner for me. If you would like to try out this book, its out May 4th, 2021.
#enemiestolovers #neighbors #oppositesattract #friendswithbenefits