The Score by Elle Kennedy
The Score
by Elle Kennedy
Self-Published
Book 3 in the Off-Campus series
He knows how to score, on and off the ice
Allie Hayes is in crisis mode. With graduation looming, she still doesn't have the first clue about what she's going to do after college. To make matters worse, she's nursing a broken heart thanks to the end of her longtime relationship. Wild rebound sex is definitely not the solution to her problems, but gorgeous hockey star Dean Di Laurentis is impossible to resist. Just once, though, because even if her future is uncertain, it sure as heck won't include the king of one-night stands.
It'll take more than flashy moves to win her over
Dean always gets what he wants. Girls, grades, girls, recognition, girls…he's a ladies man, all right, and he's yet to meet a woman who's immune to his charms. Until Allie. For one night, the feisty blonde rocked his entire world—and now she wants to be friends? Nope. It's not over until he says it's over. Dean is in full-on pursuit, but when life-rocking changes strike, he starts to wonder if maybe it's time to stop focusing on scoring…and shoot for love.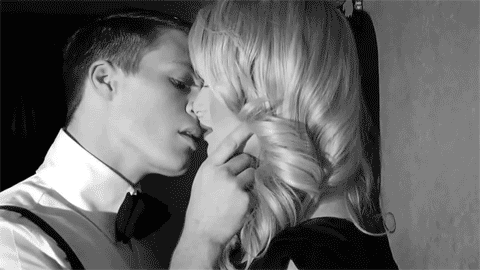 RATED: 18+ CATEGORY: MOOD:
Steamy New Adult HOT HOT HOT
The Score by Elle Kennedy is her third book in the Off-Campus series, and this time centers around Dean Di Laurentus, Garrett (The Deal) and Logan's (The Mistake) roommate, defenseman on the Briar U hockey team, and the biggest "manwhore" in Briar U, as well as Allie Hayes, Hannah's (The Deal) roommate and best friend, who finds herself heartbroken and lost after ending her three year relationship with her boyfriend, Simon. When Allie drunkenly decides to have rebound sex, why not go for it with the infamous Dean? It's only once. Except one time with Allie is not enough for Dean. Never has a woman blown his mind the way Allie did that night. Allie wants to be friends, but Dean is determined to change her mind.
I LOVED THIS BOOK! Is it original? No, but I don't care. Truly. The story is fun as fuck, and the chemistry between Dean and Allie is off the charts. And the sex is oh-my-god-i-am-going-to-explode hot. On top of that - this book is funny. No spoilers, but the unexpected character of Winston had be in fucking tears from laughing so hard. CRYING. Don't get me wrong - there are serious moments in this book too. Sad in a brutal, realistic way. -------------> Beau's death was a tough one to swallow. I mean, he isn't a huge character in the series, but how many of us look back to our high school and college days and not have a death that loomed over us. Four. Four classmates have passed away (two of them after graduation, but equally heartbreaking. It's jarring that people you know, who are the same age as you, just one day are gone. Dean's reaction to his best friends death was understandable and relatable. <-------------.
In all honesty, I had no idea how Elle was going to pull off a romance with Dean's character. The guy who loved getting watched having sex. But it worked! Allie is his sexual equal, with her being into kinkier sex. They each brought something new to the table, which made their interactions fun. Dear Lord, I still giggle about Winston. I highly recommend this book. The whole series!