The Dare
by Elle Kennedy
Self-Published
Book 4 in the Briar U series
College was supposed to be my chance to get over my ugly-duckling complex and spread my wings.
Instead, I wound up in a sorority full of mean girls. I already have a hard time fitting in, so when my Kappa Chi sisters issue the challenge, I can't say no.
The dare: seduce the hottest new hockey player in the junior class.
Conor Edwards is a regular at Greek Row parties…and in Greek Row sorority beds. He's the one you fall for before you learn that guys like him don't give girls like me a second glance. Except Mr. Popular throws me for a loop—rather than laughing in my face, he does me a solid by letting me take him upstairs to pretend we're getting busy.
Even crazier, now he wants to keep pretending. Turns out Conor loves games, and he thinks it's fun to pull the wool over my frenemies' eyes.
But resisting his easy charm and surfer-boy hotness is darn near impossible. Though I'm realizing there's much more to Conor's story than his fan club can see.
And the longer this silly ruse goes on, the greater the danger of it all blowing up in my face.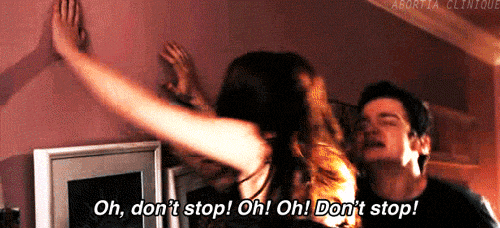 RATED: 18+ CATEGORY: MOOD:
Steamy New Adult Sweet & HOT
The Dare by Elle Kennedy is the fourth book in her Briar U series, and centers around the Briar U playboy, Conor Edwards, and Taylor, a Kappa Chi member who doesn't fit in with the rest of her sorority sisters. When she is dared to seduce one of the star hockey players, Conor Edwards, she is pleasantly surprised that not only does Conor not laugh at her, but goes upstairs, and pretends to have the best sex he has ever had. And he doesn't want to stop the ruse. But as they continue to play this game to get under her bullies skin, ****** finds it hard to resist Conor's charm, and learns there is much more beneath Conor Edward's handsome surface.
NOOOOOO!!! I wanted to love The Dare. I really, really did. An insecure, curvy woman who catches the eye of a handsome, secretly insecure, popular young man? What's not to like? Right? RIGHTTTTT? Sadly, The Dare just gave off lukewarm vibes. Don't get me wrong. I liked the characters. Conor and Taylor are cute together. The chemistry is there, just not as much as the other couples in the series. The story was okay. Just okay. A bit ... boring? A bit of a mess? We essentially get two characters who have the same hang ups of self-worth. Very relatable, but when both characters are dealing with it, and tend to act out the same way - pushing people away - it's predictable and boring.
The Dare wasn't my favorite in the series by a long shot, but if you love this series, give the book a shot.